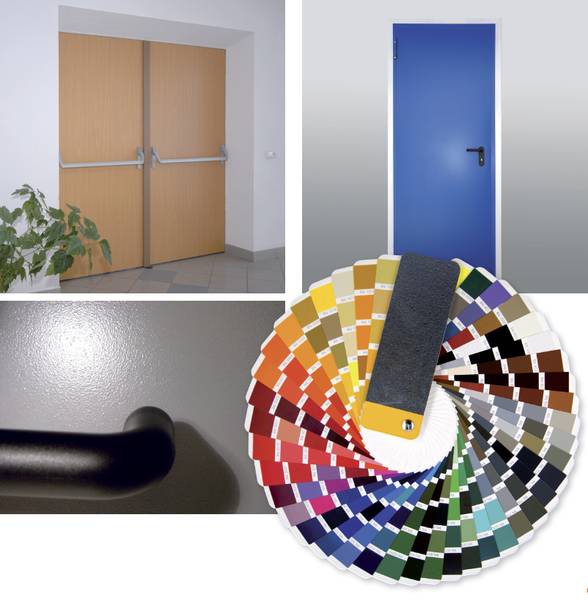 As one of the best-selling types of doors in our company, the fire doors and anti-doors of the Italian manufacturer "LOCHER Gebhard" are located in the city of Sarantino, Italy. The cooperation with the company "LOCHER Gebhard" of our company has brought progress and success in the work from the very beginning, so now we are in a position to be unique on our market, where we can offer fire doors and anti-smoke doors from this renowned Italian manufacturer.
The factory "LOCHER Gebhard" is one of the most prestigious factories for production of fire doors and anti-smoke doors, with annual production and sales of over 100,000 pieces of doors. They are engaged in the production of all types of doors and models of fire doors and anti-smoke doors, and we will present them to you in the following. All types and models of doors meet European standards, firstly the standard EN 1634-1 (EI2 60 and EI2 120), as well as the EU standard and the certificates are issued by the C.S.I. Institute. The homologation is done by the Ministry of Internal Affairs in Italy.
EI2 60 / EI2 120
All fire doors found in our offer are refractory according to REI 60 or REI 120 standards. Fire doors can be single-winged or double-winged, depending on the opening angle; they can be reversible which ensures universality in all types of doors, which facilitates the management of the doors themselves. The models on our doors are UNIFORM, ENDOR (non-standard door-defined opening dimension) and ENPLUS (special type of stencils-for walls made of gypsum-cardboard).
European standards
Verified and tested according to European standards EN 1191 that is the initial testing of fire doors can be qualified for seating according to EN 1634 for fire protection. The tests according to EN 1191 confirmed that the doors can withstand every day and numerous openings, usage and sealing and durability in all conditions of use.
All parts of the fire doors are congruent with EU standards and are certified. Locher Quality Control and organization ensure that locks, closure regulators and other optional parts such as anti-panic handles, electronic locks, magnets, and others meet the standards that provide top-of-the-line products.
Door coating is environmentally neutral and offers the best craftsmanship and luster. Locher guarantees homogenous surface, scratch resistant and atmospheric influences such as sunshine and rain.
Endoor / Uniform / Enplus
ENDOOR / UNIFORM

Endoor and Uniform differ in that Uniform is a series of reversible doors that are universal left and right, while in the horizontal and vertical characteristic section they do not differ.

ENDOOR / UNIFORM / ENPLUS

Endoor and Uniform differ from the Enplus series according to the shape of the casement.
Product range
Also in the Offer we have unique fire doors on the market for drwalls in two Endoor options covering the wall on three sides, and Enplus which covers the wall on both sides and the entire empty hole.
Another unique feature that the manufacturer Locher has, is that they return SimilLegno which have a PP foil of wood imitation in 6 different designs.
All fire doors and anti-smoke doors Locher can be equipped with an electronic lock, which is an ideal for access control that can be hands-free, with a card or in any way that the developer needs. The easy, access control can be one-sided or double-sided depending on the needs.
Противпожарните врати Locher REI 120 Enplus може да бидат во серија AFONICA и звучно изолирана и тоа на 36db.Елементите на комплетот може да се применат и на веќе вградени врати кои гарантираат ист коефициент на намалување на бучностаe.
На сите врати истотака може да се вгради и гилотина односно паѓачки праг кој во моментот кога се затвара вратата се спушта и дихтува затварањето измеѓу крилната врата и подот.