Security and safety door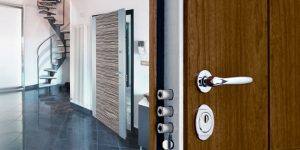 What are the Avanti security doors?
Our doors have the durability, strength and ability to withstand a great period. These are the essential requirements of the product that is made to make the home inviolable, ensuring the safety of those who live in it. That's why the blended doors Alias porte blindate is designed to provide cutting-edge performance from every point of view: flexibility, penetration, high acoustic and thermal insulation. All of our doors have attests from the European institute, as well as attests from the national institute IMS on sound and fire extinguishing (REI 30 and REI 60) according to the European standard EN 1634-1, and in sales and satisfied customers we reached the top of the domestic market . Our doors are made of a 2mm solid steel rod that provides a European class of safety doors UNI-EN 1627. The doors have sound insulation from 34 dB to 42 dB, as well as heat insulation of 1.3 WW / (m².K). The doors can be widespread on different models of security locks, with a key or a special encrypted key.

What you need to know before you buy a security door?
Security doors represent an investment that does not change frequently. For these doors it is necessary to consult with professionals in this area and we provide this free of charge.
What is the quality of the security locks door locks? They are of high quality because they use the highest quality Italian products.
How many security points is the lock? Our security blended doors are twelve and more locking points depending on customer needs.
What is the life span of these doors? Our safety blended doors are tested at 50,000 openings corresponding to a life span of 30 years.
Contact our experts to help you choose high-quality and security doors for your home or office. Come to our premises, on the street September 8 – Veles, and with our experts, consult the choice of doors that will soon increase the security of your premises. Imagine Italian quality and security in your home. With Avanti security doors your home will always be sure. Call +389 77 942 660 or contact us via the contact form.